I love days where we can get some small and much needed projects done around the home.
Today was one of those days.
The one sconce in our one and only bathroom died on us months ago.
The wiring inside the sconce was no good.
Half the room was dark as you can see in this photo that I shared on FB the other Sunday.
(I thought the scene reminded me of a Norman Rockwell painting.)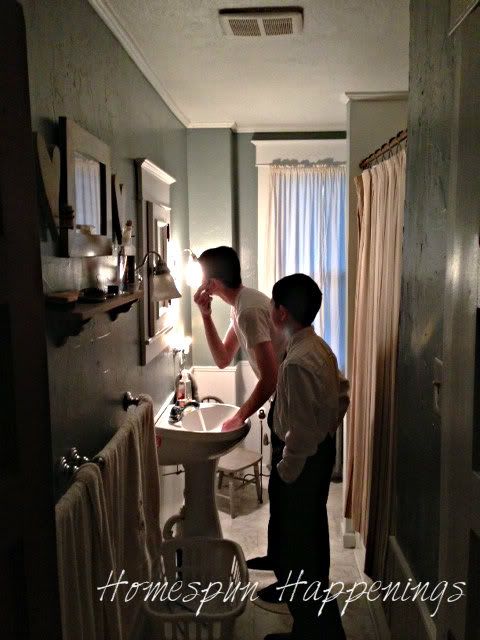 We went to purchase one that was identical to this one, and of course they didn't have one.
We ended up buying new ones that were not silver.
I really thought about getting the real cheap ones and painting them, but I was afraid that I would do all that work and the wiring would go bad in them all too soon too.
Hubby made sure the electric was off before he started.
(I put that in there for my Mother-in-Law)
=)
Within minutes we had bright light again in our bathroom!
I do like the look of these.
They have an old street lamp feel.
(Maybe I should have used them outside..hmm???)
Unfortunately we have silver towel racks in the bathroom that don't match.
I am guessing that if I really want to, I can paint them to match the new sconces.
We'll see.
I'm still plugging away at the kitchen.
We finally put on the switch plates that needed cut because of how the paneling and the trim meet in the kitchen.
All those little things add up, and I am one that really gets bothered to leave projects half done for days or months at a time.
I'll be giving an update on the kitchen in my next post.