I finally got the bottom cabinets put in with a new counter top.
There was a 30 inch sink cabinet in the old layout. We had to stick with that layout since we did not replace any of the top cabinets. I wanted to have drawers instead of a big open cabinet next to the sink base. The only size that they came in was 18" I had 26" to work with. Buying the 18" drawers left me with 8" of empty space. Our friend that put our cabinets in ended up modifying a 12" cabinet into an 8" cabinet. I was thrilled! Now it was time to paint them. I painted them with AS Old White to match the top cabinets.
Before waxing, I drilled my holes for the hardware.
I didn't like it that my sink base looked so bare, so I decided to add some metal plates that I had gotten free at a yard sale last year. I taped them onto the cabinets to see how they would look.
Perfect, now all they needed was to be drilled and aged.
I drilled holes in the other end of each of them.
I sanded them and then stained them with Dark Walnut stain.
I nailed them to the cabinet face with some tacks.
Ahh! Perfect!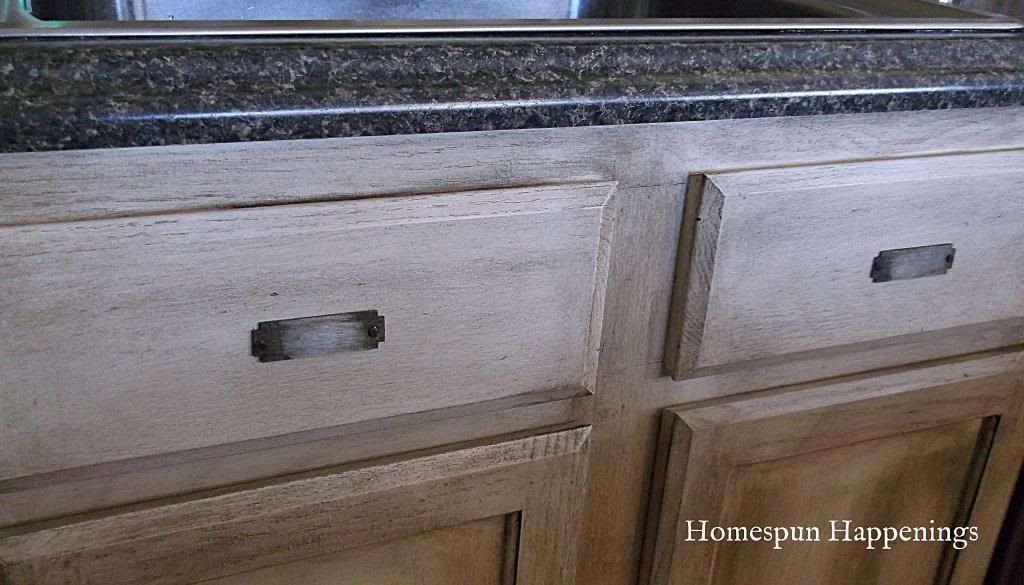 Here's the Before:
and the After:
I hope you'll come back next week for the whole kitchen reveal.