It is that time of year that my husband actually wants soup. He is not a soup guy. He is a meat, potato, and bread guy.
I really only make two soups. This is only because I know my whole family will eat them.
One is Chicken Corn Soup with Dumplings.
The other is found in this cook book, Healthy Homestyle Cooking by Evelyn Tribole. The soup is Potato-Bacon Clam Chowder.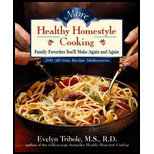 One of my good friends gave me this cook book one year as a present.
I always make the No-Knead Cheesy Bread to go with it. Do you notice that each soup involves bread in some form.
My husbands first vegetable is bread:)
I think I need to double the recipe for the bread next time.
Hits the spot on these very cold nights!