Wednesday, December 3, 2014
Friday, December 13, 2013
I am so far behind on Christmas.
I haven't even written out my cards yet. You would think I'd have some Christmas posts going on here, but alas I have been working on some regular projects. I guess my Christmas posts will come in January, yes, I can be that kind of person. Christmas can last all year with me :)
I just had to share with you this project, because a customer realized, I guess, that I can maybe turn this outdated planter on the left into something useful and updated on the right. They didn't want this back, so it was mine to do with what I wanted. I decided to get rid of the heart. Hubby cut along the line I had drawn. He is so much better with a saw than I am :)
I used Annie Sloan's Old White (Love Chalk Paint). Next I printed off the saying "Bits n Bobs", because I thought it could be a catch all container. I layered it with burlap and Mod-Podged away. I added a handle I had collected from somewhere along my junking journey. Finally a little clear and dark wax and VIOLA!
I love the barrel look it has.
It sold the first day of my craft sale!
Now back to the signs I need to get finished.
Saturday, November 23, 2013
Blogging has been at a complete halt as I am frantically trying to prepare for my craft sale, keep up with school and everyday life. My house looks like a tornado came through, but I know I will be ready to welcome customers this Wednesday.
I thought I'd share with you a cute and easy ornament idea.
I started with webbing, greens, tags, candy canes made from pipe cleaners, and a paper tag I cut myself out of card stock. I did pre-stain my metal tags so that I would just be ready to use them whenever. You don't have to stain them.
Next I printed some sayings off of the computer and tea-dyed them. When they were dried I Mod-Podged them onto the tags.
Here are the ornaments all assembled together with some twine.
Okay, so maybe it is not the fastest ornament to do, but it is a great way to use some webbing scraps. I also realized I got rid of the paper tag and just used the webbing for a background. I will share with you some tags I made from the card stock soon :)
Tuesday, November 27, 2012
Here is a simple and quick ornament idea.
There was a lull during my sale, and I thought I would make some Holly felt ornaments.
I cut the leaves out first, adjusting the size of the leaves with the size of the black felt circle.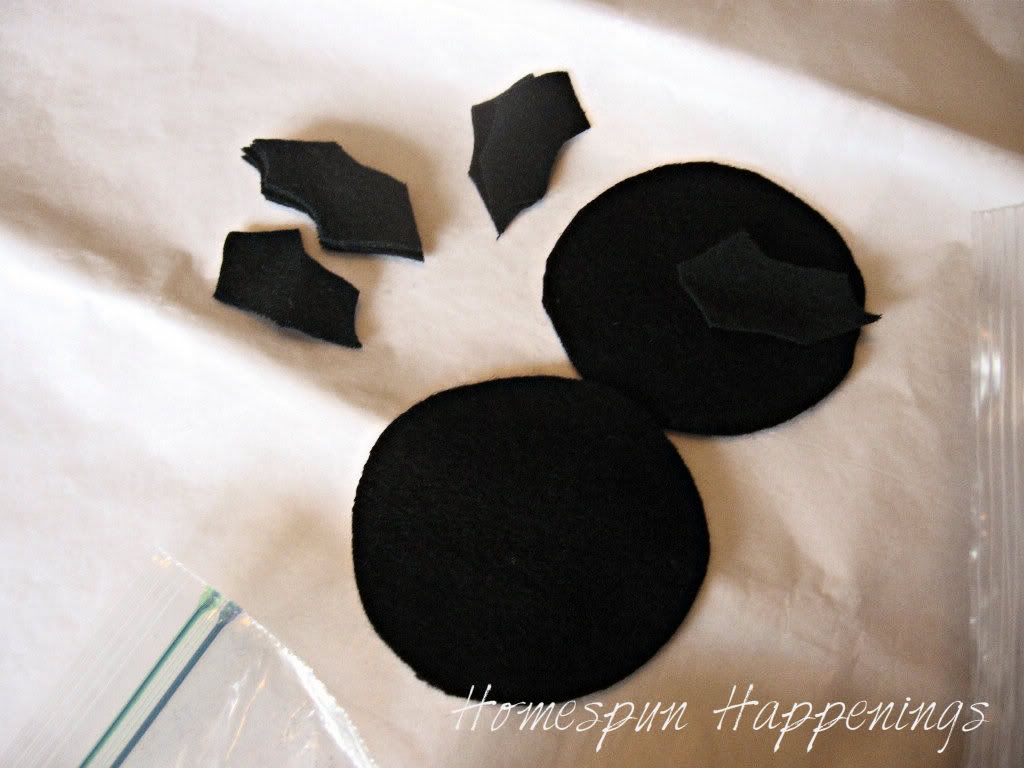 I then cut out some berries and placed everything where I wanted it to go.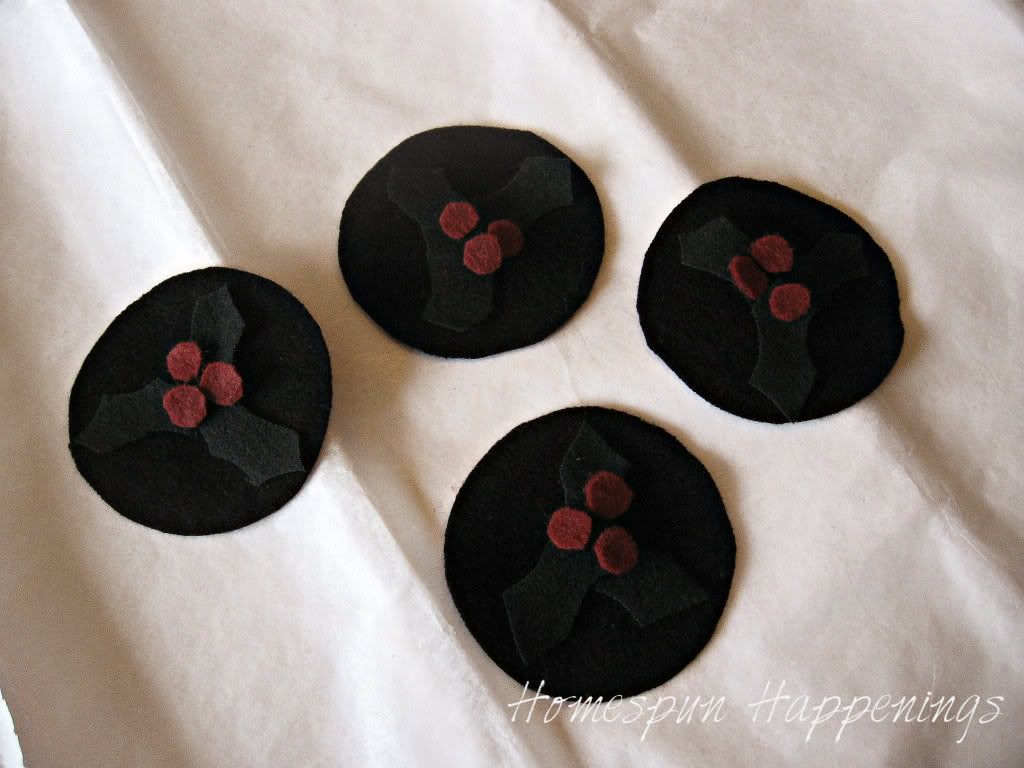 First I sewed the leaves on the black circle one by one using the blanket stitch.
Then I sewed the berries on one at a time overlapping them to look natural.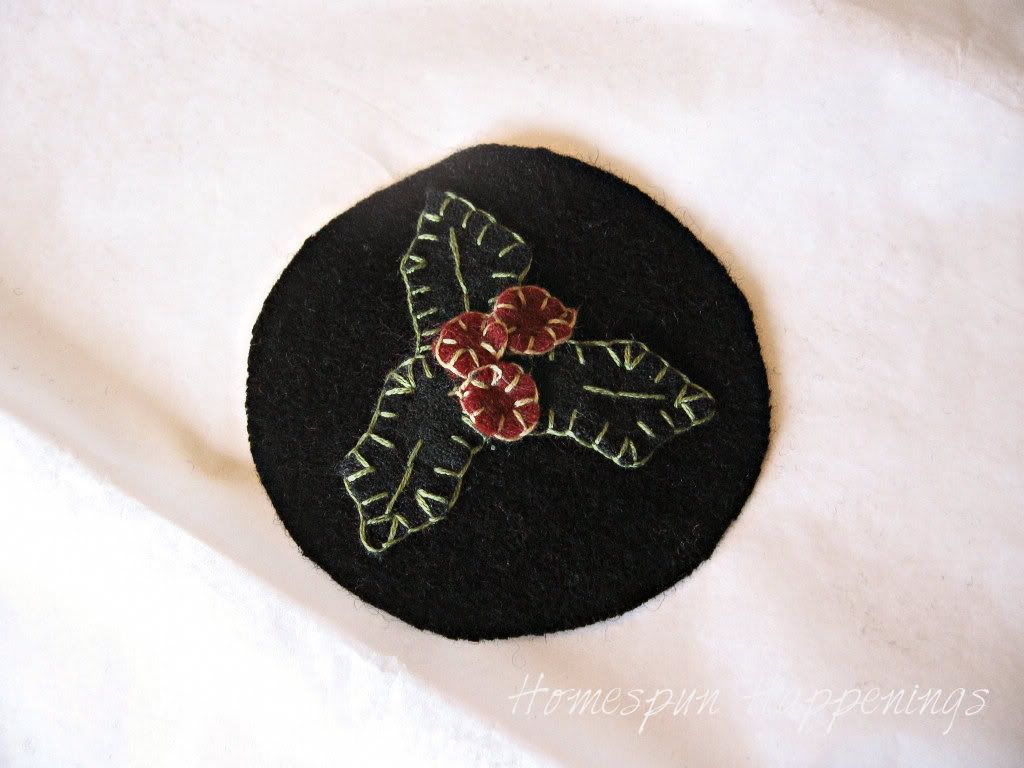 I added another black circle to the back for a finished look
and blanket stitched around the edge.
To hang the ornament I used some black craft wire.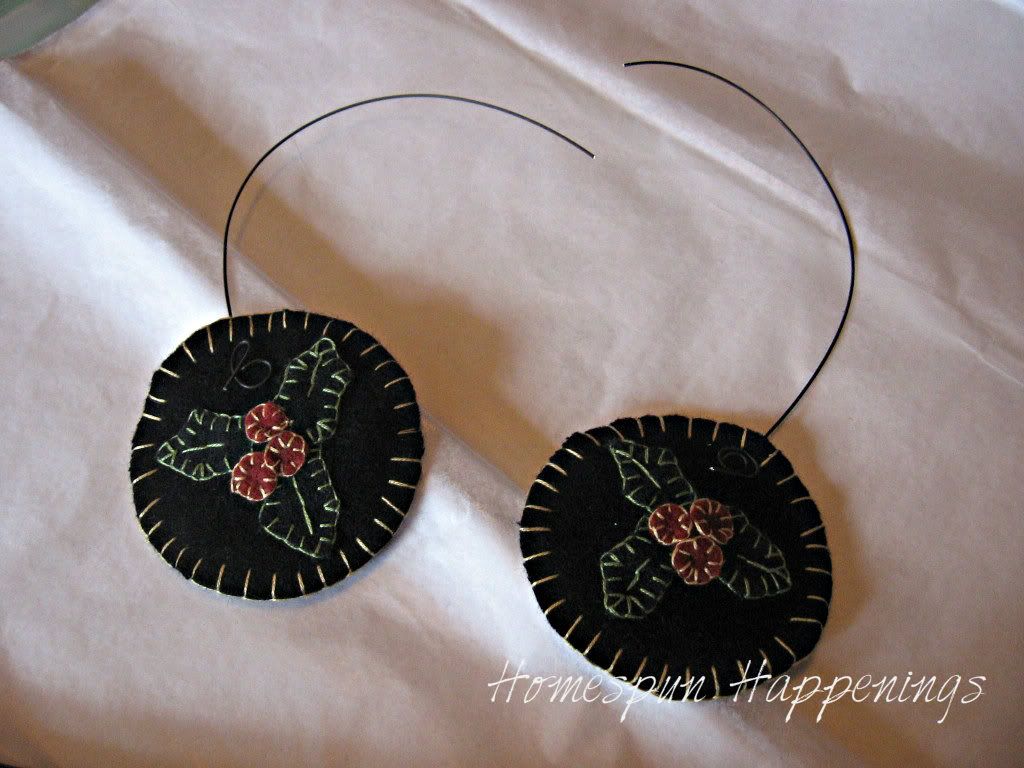 Here is another felt penny rug idea.
A snowflake
I hope you enjoyed this simple craft idea.
It is simple as long as you are not making 5 at a time :)
Happy crafting!


Sunday, November 25, 2012
Before I get started on this post, I would like to say that if you think I have any creativity at all I know it comes from The Lord --the greatest Creator ever.
I know He gives me the ideas that pop into my head.
He deserves the credit, and I give it all to the Lord.

I was asking myself,
"What can you do with some old fencing?"
My son found this fencing outside in our neighbor's trash.
I thought okay, I can make some of those cross country ski porch decorations.
I wasn't too keen on the idea, because I know it was an old idea.
Plus, I really didn't have the stuff to make it look Primitive enough for me.
Then suddenly it popped into my head.
Christmas Stockings!!!
I cut the boards on a 15 degree angle.
I painted four of them with Annie Sloans' Coco
and one I painted with a mixture of Engine Red and Black Folk Art Paint.
I wanted a saying on them.
I used the Tempus Sans ITC font in Word and printed off the lettering on plain paper.
I transferred the lettering onto the wood by coloring on the back of the paper with white chalk,
and then on the front I traced over the letters with a pencil.
I used my white paint Sharpie marker to color in the letters.
I marked where I was going to drill the holes,
so that I could attach the top part of the stocking to the bottom part.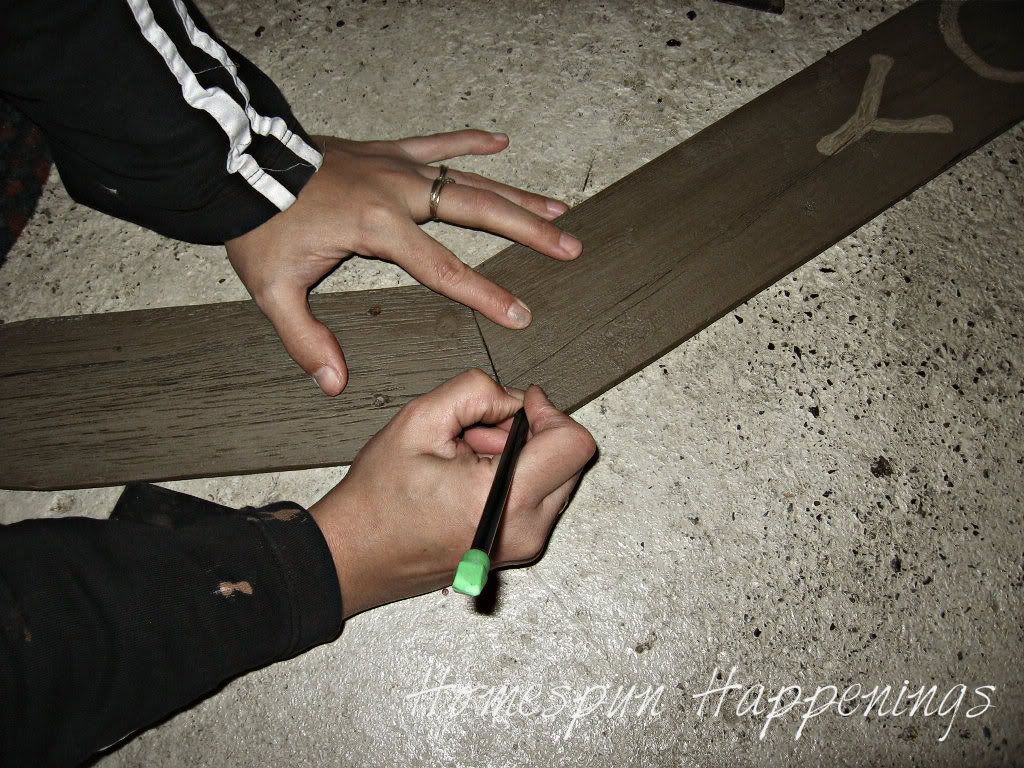 Using craft wire I attached the pieces together like this.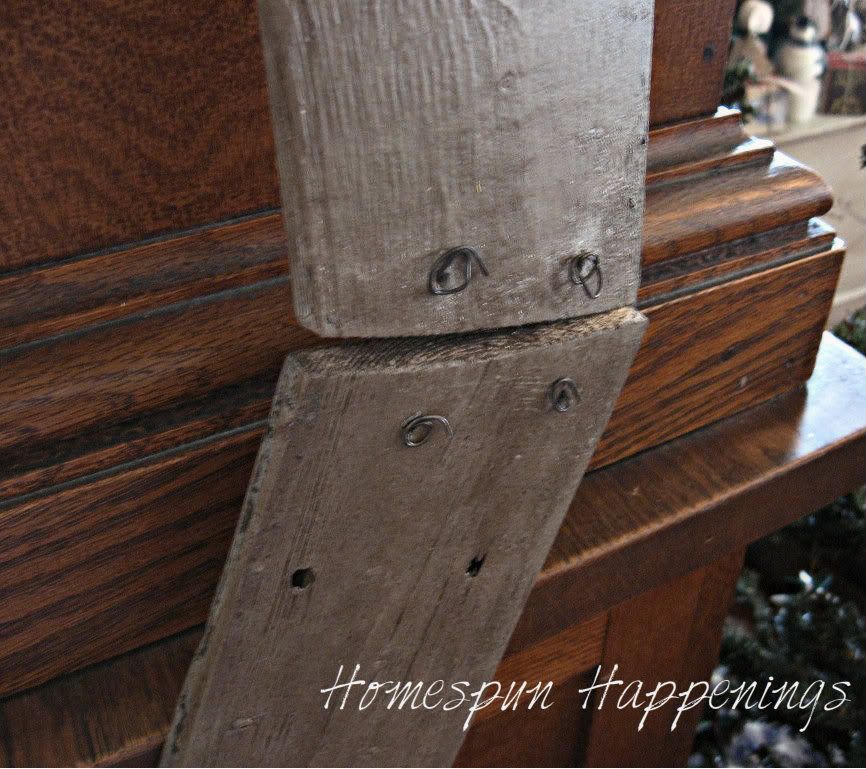 I added some tea dyed cheesecloth, a rusty bell, and star for decoration.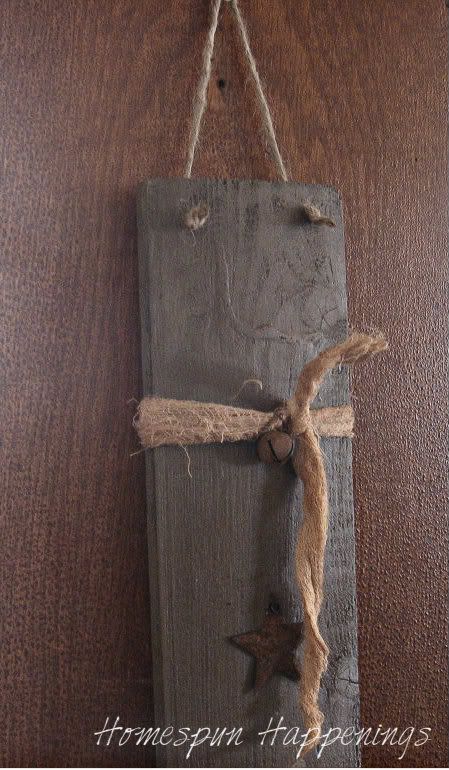 We'll see how or if they sell :)
Monday, October 22, 2012
It feels so relaxing to take a break from hurting myself with tools while working on wood projects
to sew again.
I decided to make some felt appliqued snowmen for my sale.
I don't use a pattern; I just make one up as I cut.
After positioning the pieces the way I want them, I start sewing the bottom piece first--
using the blanket stitch.
The scarves are layered too.
After all the pieces are appliqued onto the background,
I add the details with floss.
It's so amazing how it all comes together.
I love that blanket stitch!
Since I don't use a pattern, they are not exactly the same.
There ya go.
Hand-stitched in America :)
I'll show you the finished products in a future post.
Monday, September 10, 2012
We have been enjoying a 9/11 conference at our church called Awake America.
Tomorrow night is the last night, and I just hate to see it end. I have been so educated these past two days about our Founding Fathers and the Constitution. It is been one amazing history/Bible lesson. The kids have loved it too. I can't believe how much public school didn't teach me. Now I know it is because they were pushing their own philosophy on the children. Can you say G-U-L-I-B-L-E? That is what I was!
If you are in the Hunt Valley, MD area, I urge you to come out and listen to Dr. Chuck Harding.
I hope you'll come!
Okay, Now for a little project that I was determined to build.
About two years ago we gutted our attic. There was a small rustic door that was there to block the crawl space on the other side of the wall. I knew I wanted to make a table with the boards.
Unfortunately hubby doesn't tear things apart nice and neat, and I could only salvage three boards from the little door. The one side of the door was painted purple. I chose NOT to display that side.
I nailed the door pieces to the frame.
I then flipped it over attached some 1x2's for legs.
I used part of our balcony that is falling a part for braces on the table legs.
Don't ask me what is bracing our banister on the deck--DANGER!
Here it is before I painted the legs.
I painted the legs in a sandstone color and stained them with Dark Walnut Stain.
You can hardly tell from the pic that I even painted the legs. They blend in with the pallets that I used for the frame. My purpose for this rustic little table is to use it to display some crafts at my sale in November.
It reminds me of a table that you would find in a primitive kitchen circa 1800's.
So what do you think of my rustic ole table?
For now, it will hold my plants in the house.
I just want to enjoy it for a bit :)
Linking Up With: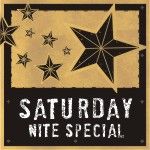 Tuesday, September 4, 2012
I know this is not an original idea, but when I saw that I had a pallet that would work to make a book/magazine rack; I had to try it.
Hubby cut the pallet for me with the circular saw. I wanted to make two small racks vs. one long rack.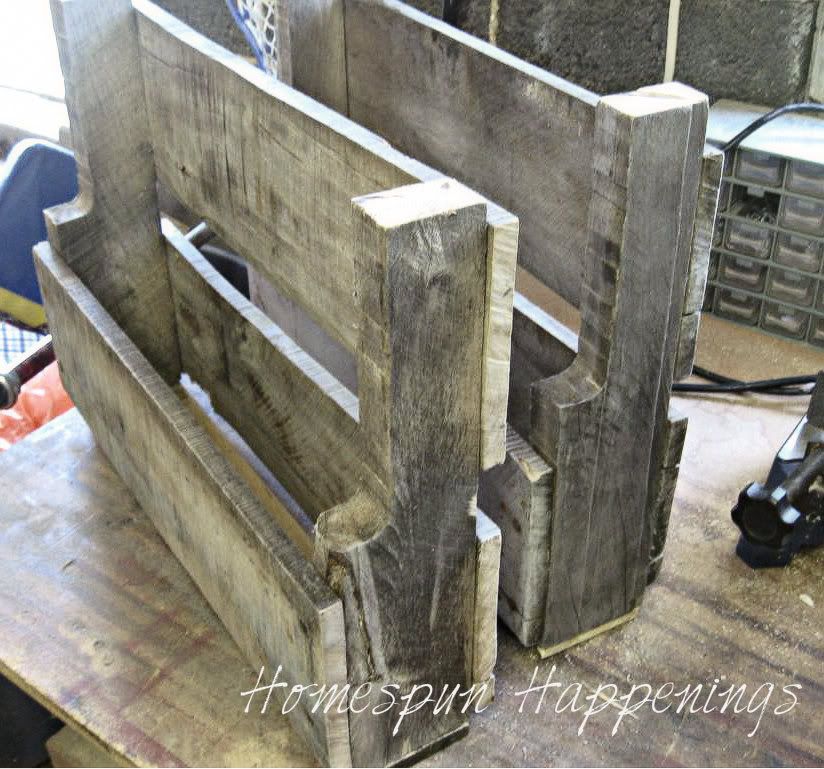 I took a small pallet board and nailed it to the pallet piece that he cut for the bottom part of the rack.
Now I was ready for some wording.
Farm seed seems to be a thing with me right now. I used Microsoft Word 2010 and typed out my saying.
This is the Engravers MT font. I just made the letters different sizes.
I colored on the back with some charcoal pencil and then traced over the lettering.
I also added a little metal plate to the middle of the wording.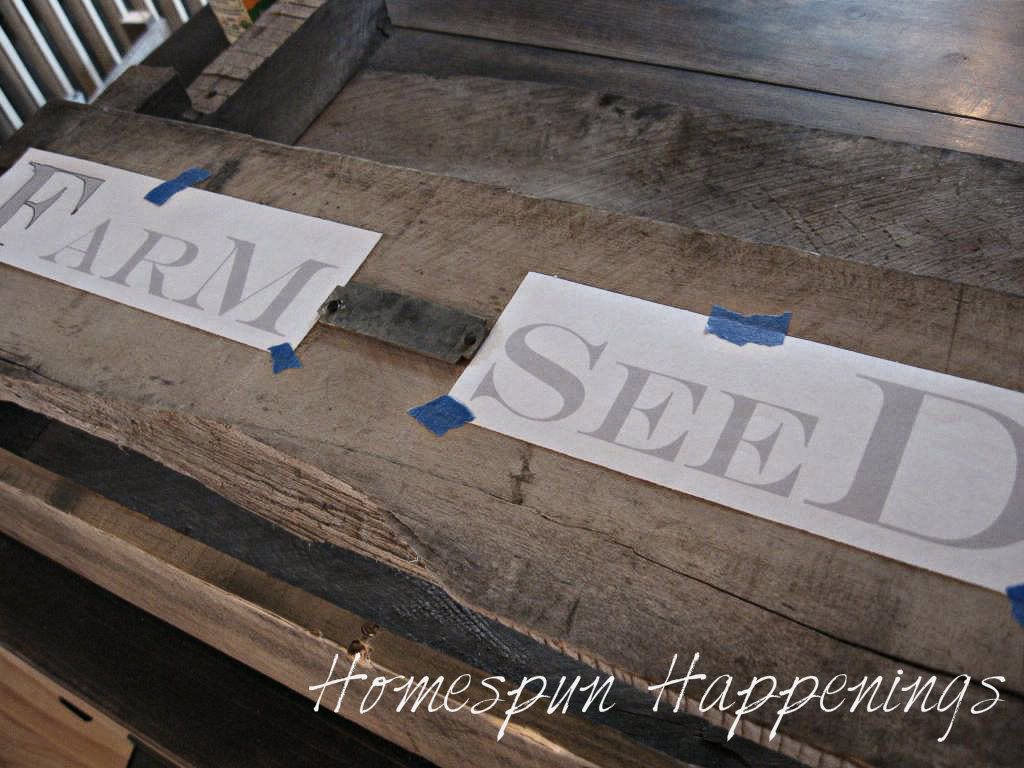 Using my Sharpie Marker, I colored painted in the letters.
I have two sizes.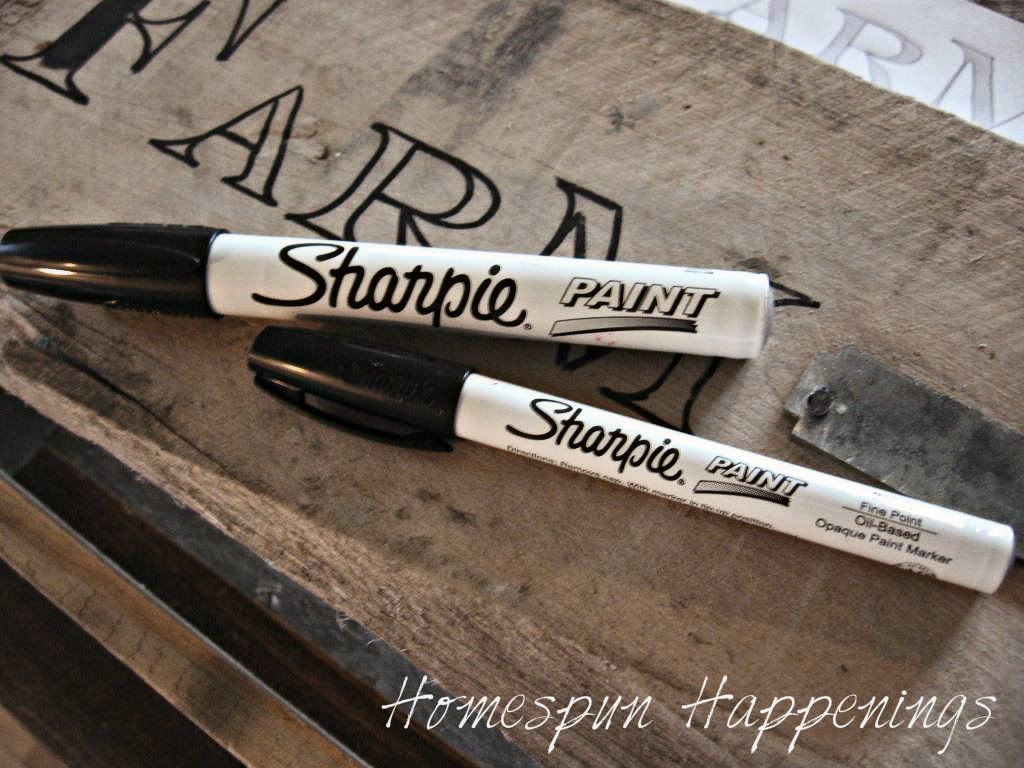 With my thrift shop leather belt, I cut out some leather straps to add to the racks.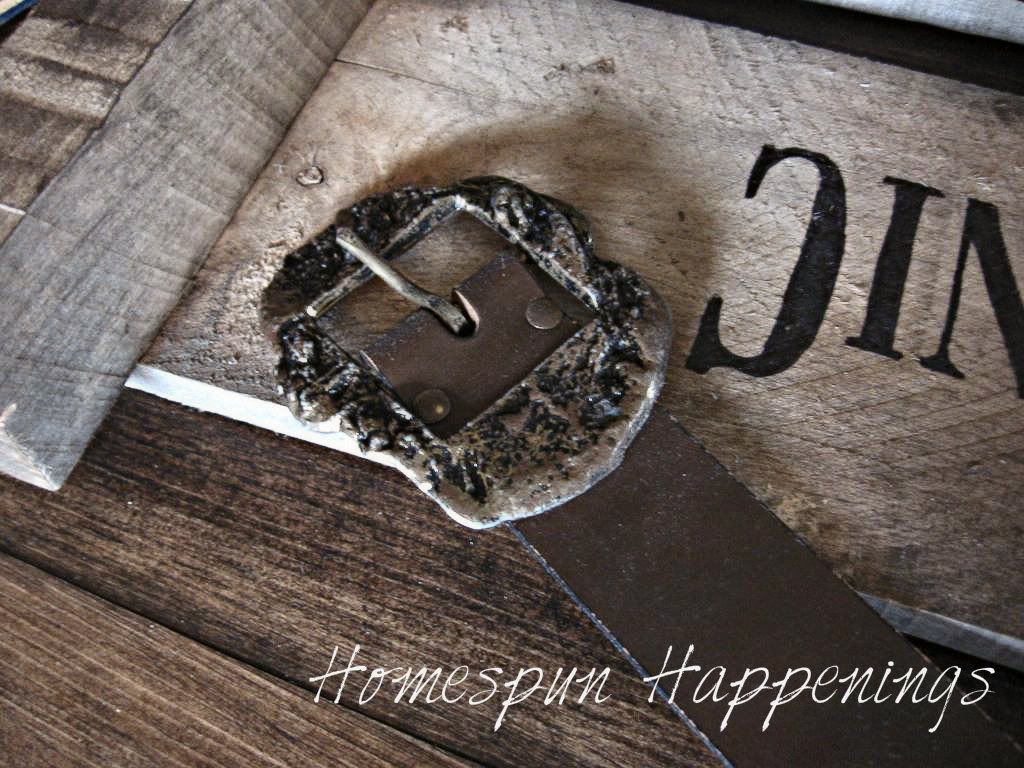 I nailed the straps to the sides.
Don't you just love how the leather looks next to the weathered wood? I do :)
I did brush on some walnut colored stain to the rack where the boards were freshly cut to "age" it.
So here they are!
The word 'Organic' is done in Microsoft Word 2010's Bodoni MT Condensed font.
These will be sold at my sale this November too.
I love pallet wood!