I have been playing around with some chalkboard paint and some chicken wire.
I have greatly enjoyed chalkboard paint.
I was also ecstatic when I found it at Wal-Mart for $9.98!
I checked all the hardware stores, and I found that they were all about $14 and up.
This post is just going to be a lot of pictures of the projects I have been working on.
I have before and after pics of some of the projects.
I picked this shelf up at a yard sale for 25 cents.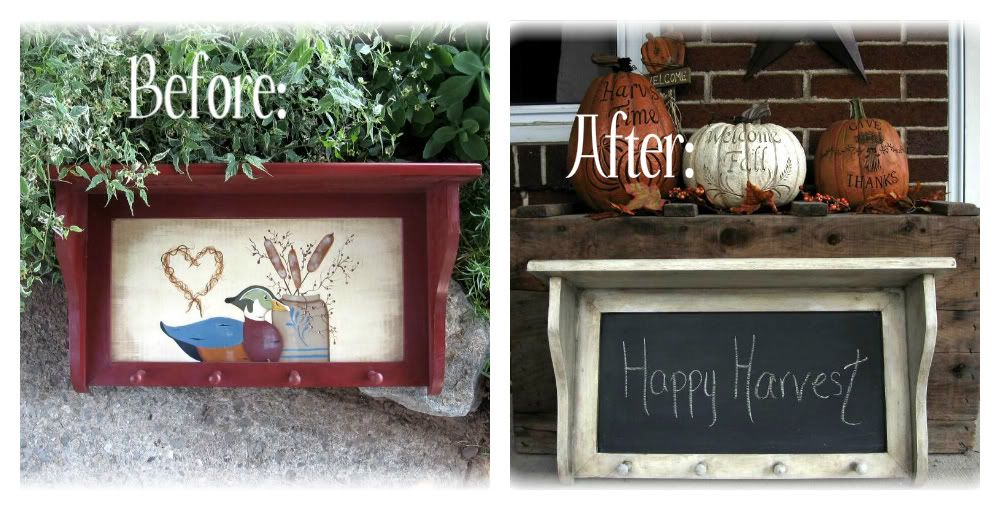 I wish I had a before of this shadow box.
I Hubby took off the decorative heart piece at the top and replaced it with a board.
I tore out two shelf layers of shadow box space to have the big chalkboard space.
I also transferred this lettering and used my sharpie paint marker to write the saying.
I painted it with a Valspar sample--the sample is the paint I recently used to paint my walls. I also stained it with Min-Wax's Walnut stain.
Here is a telephone desk I found along side the road.
It was out for trash!
I painted and recovered it, but didn't like my makeover.
I like this makeover better using Annie Sloan's Chalk Paint of course.
Now for the chicken wire.
I am such a saver of junk--sometimes. :)
We found a roll of chicken wire out for trash back in 2002.
It had been sitting in my garage for years.
I was inspired by a blog on one of the linky parties to try and make a basket.
This is what I came up with:
Small ones about 4"x 9" with chalkboard tags
and Large ones about 8"x14" too:)
My final project is a frame I got for free at a yard sale.
It as my first ASCP project.
I added the chicken wire, and now I can clip pictures or cards to it.
What have you been working on?
Has anyone worked with chicken wire before?
My hands are all scratched up:(
Linking Up With:
Knick of Time Tuesday